Goldi Arora
Goldi Arora is the Managing Director of Property Master and graduated from MJP Rohilkhand University, Rampur, in U.P. After having completed his graduation he stepped into the real estate field and has over the years built up a vast network of satisfied clients with his business acumen and personal interaction with his customer base. His reputation for being an honest and fair representative to his investors grew steadily. As a Managing Director he develops new services and expands client relationships besides attracting new talent to the company. He is an expert in the Marketing field and has taken great pains working day and night to guarantee the success of Property Master. Goldi Arora believes in leading and guiding a team of associates from the front in ensuring perfection in all aspects of business dealing with clients and sellers. He has managed to build up a very impressive list of the biggest sellers in real estate in Greater Faridabad and is supported by a team of almost 50 marketing experts in real estate business. Aided by this team of leaders and wealth experts he has served his clientele very successfully. Besides his business expertise Goldi Arora is a great humanitarian and regularly devotes his time to social welfare programmes for uplifting the weaker sections of society. Goldi Arora is not only a thorough professional he is also a very dedicated social worker.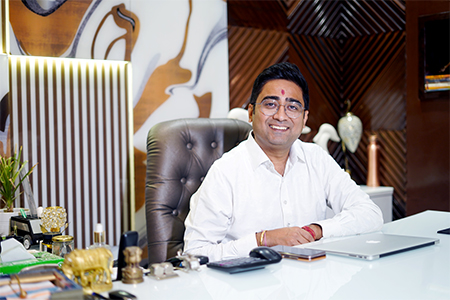 Paras Rai
Paras Rai is a graduate from Delhi University and has been in the real estate field for the past 15 Years. He graduated in commerce and then did a diploma in information technology to keep up with the modern times and business practices. After his graduation he chose real estate as a career and stepped into it like a fish to water and slowly built up a reputation as an honest and thorough professional. His customer base of investors kept growing as did his reputation in the field. Paras and Goldi then joined hands to found Property Master in 2009. Since its inception Paras has been focusing on expansion of his client base and the list of company clients
keeps growing steadily. He is a dedicated professional devoted to provide the best possible services to each and every client and takes personal interest in ensuring that they are served in the best possible manner and ability. He is specialized and involved in all the financial aspects of the company and provides valuable inputs to all investors to manage their real estate portfolios to extract maximum benefits by profitable investments and ideal asset management techniques. Paras Rai is devoted to the social welfare of society and contributes generously to many charities and good social causes.
Both Goldi Arora and Paras Rai form a formidable team amongst all the real estate professionals of Faridabad.